Good morning
I thought I should quickly introduce my new project, bought unseen( what could go wrong) as if I need one with an FB and New baby having arrived in the summer.
It won't be a fast build and in fact I may work on the FB first, I'm just not decided yet.
So the car, I previously owned and then regrettably sold the car 7 years ago (literally to the day when the deal was done) loved every minute, and went everywhere with my now wife, holidays, days out and car shows. So it's a memory form a different time of life.
So when I saw Stu looking to sell on MRC , which I would keep an eye on for this day, I jumped on the opportunity to buy it ...
The plan was the get a train down to collect after it's MOT. So when it failed the MOT and garage refused to fix due to the welding required I realised this was a proper project.
I bought it and paid to get it transported up. Am I mad? You decide
Just to add...
Previous restoration skills...none
Previous welding skills....none.
Previous bodywork skills...erm
Indoor facilities...erm... Yeah this will go well.
But I do want to learn!
Rich
How it sat with the prev owner...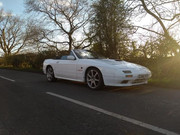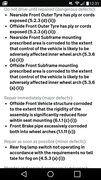 Home