Thought I'd post up how I swapped from the standard fan unit over to a Kenlowe 16" electric fan. I went a different route to what Ian done with the MR2 fan swap as found here
http://www.rx7fb.com/viewtopic.php?f=23&t=74
.
Note that I installed this on the larger Series 3 radiator. Find out the fan measurements and compare them to your radiator before buying!
First of all I started by actually buying the parts I need. I got a Kenlowe 16" single speed fan for my install from Demon Tweeks for about £150. I think their current lineup are all two speed(?). You can get fan kits which come with mounting hardware but I wanted to make my own brackets for a cleaner look. For the controller I went with a Davies Craig 0444 which is a nice little unit suitable of controlling 2 fans
. More info here:
http://www.demon-tweeks.co.uk/motorspor ... fan-switch
Tip - Buy from the Demon Tweeks store on eBay if they have the products on there and you don't have to pay for shipping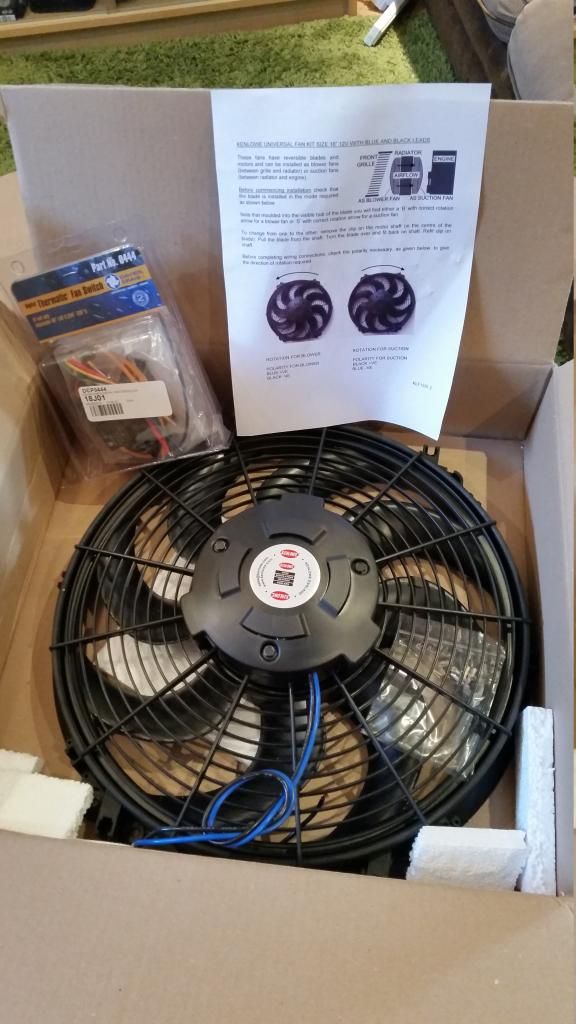 Here you can see the 16" Kenlowe fits my larger Series 3 radiator about as good as it gets.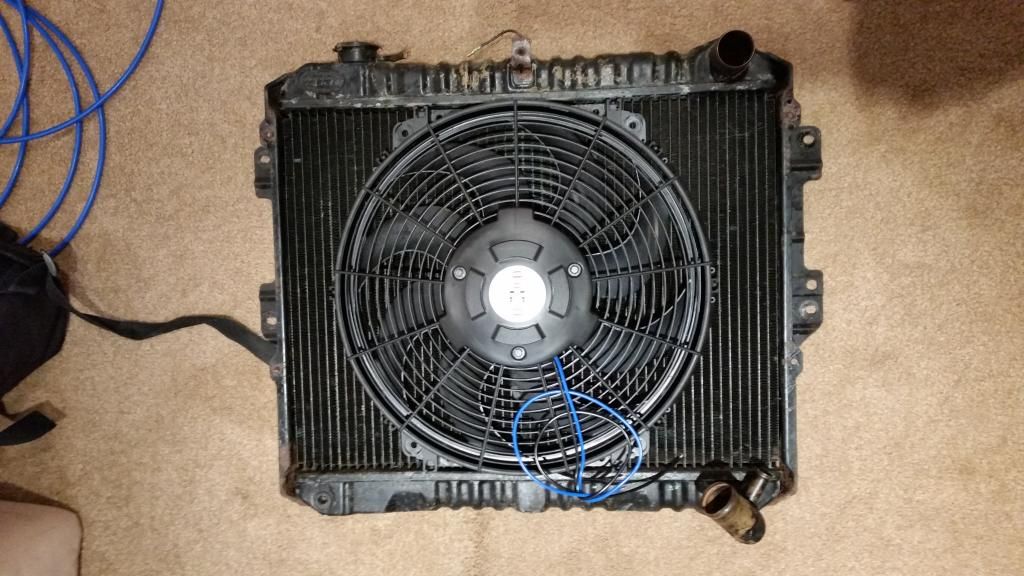 Once I figured out how I wanted to mount the fan and controller I started hitting some steel with a hammer. Would of been much easier with a welder or proper fabricating tools
. I cut the heads off some m8 bolts and drilled some carefully measured holes on my brackets where the fan mounting will attach. Then Steve-A was nice enough to dab a few quick welds so it was looking all proper
. Sprayed them both with some satin black and they were looking sweeeet.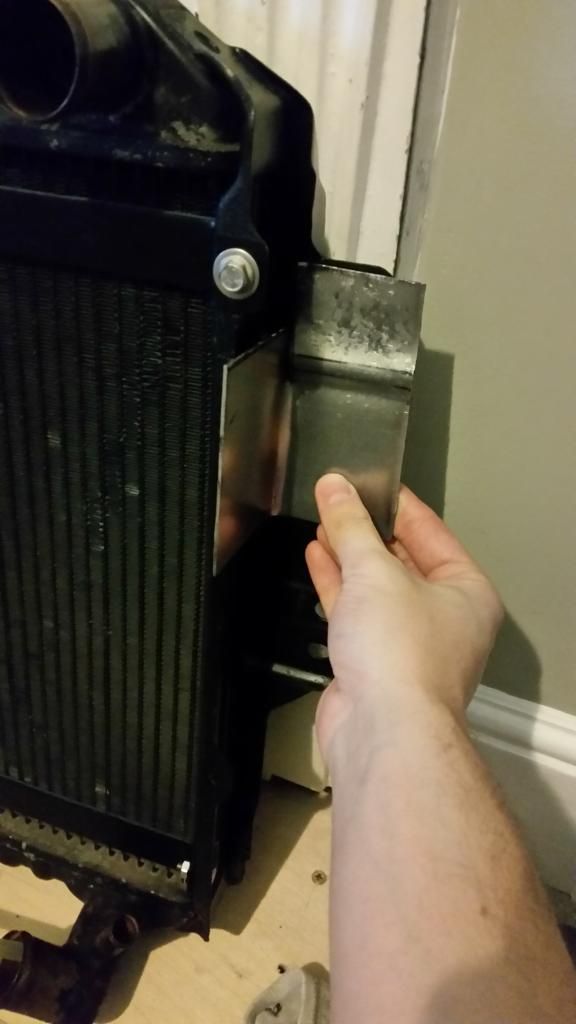 The top fan bracket and the fan controller brackets both used factory mounting holes. For the lower fan bracket I drilled a hole in the side of the radiator, making sure not to touch the core! You can see it mounted here with a nut+bolt
I stuck some of this on the back of my brackets to stop any rattling and also try and cushion the radiator core from metal-metal contact
http://www.ebay.co.uk/itm/SILICONE-SPON ... 417454fbc1
Should now be about ready to put the radiator back in the car and mount up the fan and controller which is pretty straightforward if you done your measuring properly
.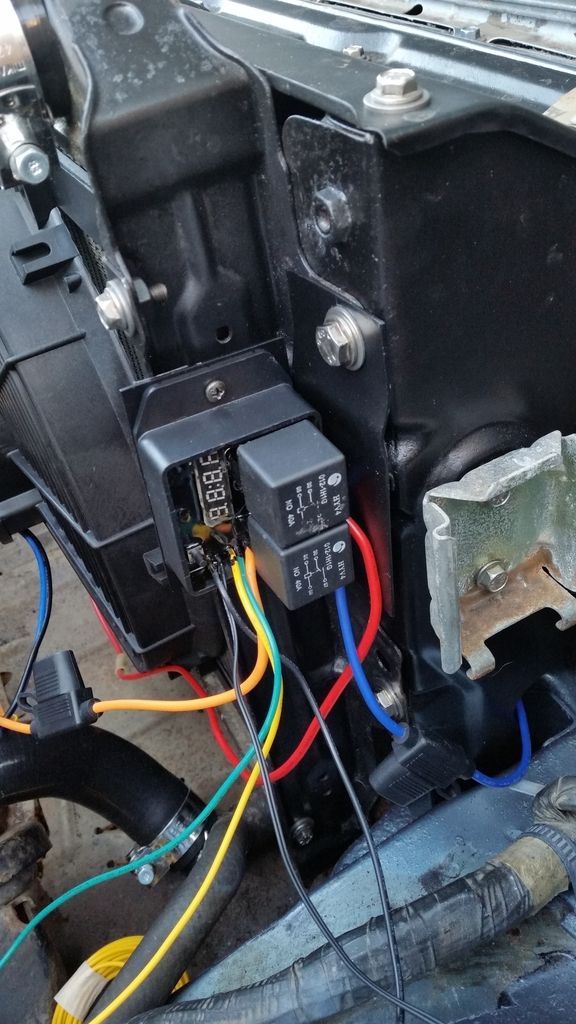 I used some standard, non-adhesive heatshrink to take the Ignition and A/C wiring into the cabin. Then a few centimetres of adhesive heatshrink on each end to keep it safe/sealed up. Much cheaper than paying for a few metres of adhesive stuff
. Managed to find a spare ignition wire so plugged into that. Also connected up the A/C wire to my non-working, soon to be removed aerial to work as a manual switch if I ever feel the need. +12v I took from the battery terminal. Ground from a bolt at the headlight motor (I think
).
All plugged in yet?
Turn the ignition to check the unit powers up and that it reads accurately. We don't want it saying 40 degrees C on a snowy winters day now, do we?
I have my controller set to 87C.
Once it's all looking good then start putting everything else back in the engine bay. Everything I took off got new bolts put back in their places. Filled up the radiator with Bluecol's concentrated coolant and some posh fresh water
. Start the car up and make sure the fan actually turns on when it reaches the set temperature!
I believe that should be about it! Here are a couple bonus pictures. Much less clutter in the bay!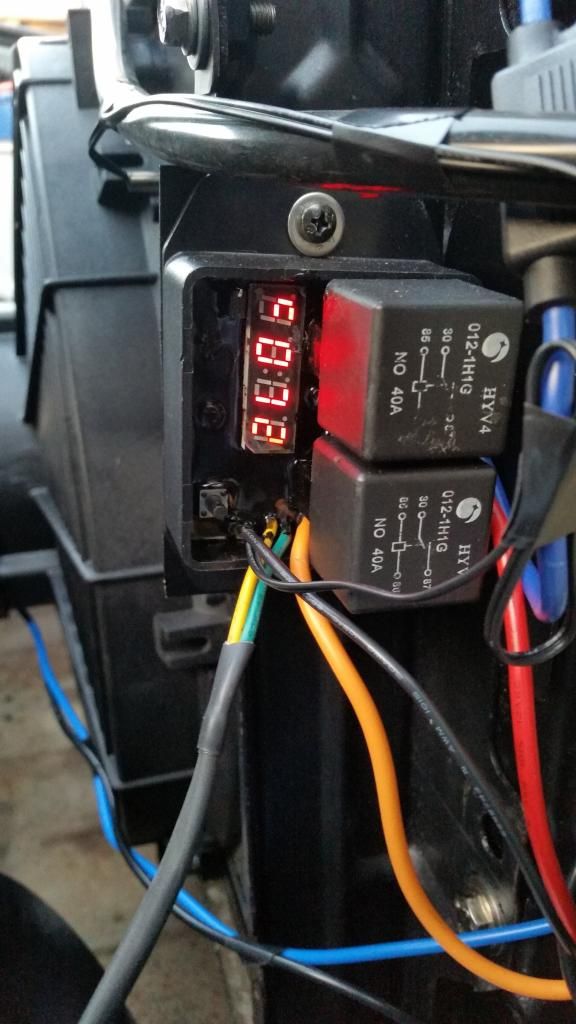 Whilst doing this I also gave my cooling system a good refresh. New thermostat, coolant level sensor, radiator hoses (thanks to Adam/Rexi84) and gave it a good flush! Treated some surface rust on the chassis rail/headlight motor areas and painted the radiator surround.
Hope it helps at least 1 person out aye!
. Thanks for reading