---
Posts: 1284
Joined: Tue Nov 01, 2011 9:44 pm
Location: Worcester - UK
codge wrote:I use only 'Blucol' coolant, available here, the glycol based blue stuff not the more modern long lasting stuff (which is said to damage classics).
I've been using this stuff since I got my 7 also. Saw you make a post about it ages ago I think
. Seems to be doing a good job aye. I'll get a good look what comes out in a few weeks as I'm refreshing my cooling system
I'm curious to see how it looks after a good flush aye. Keep us updated with how you do
---
That looks like sometign else altogether.

The white crystalline stuf doesn't normally look like that.

I'm not sure why it forms.
Back in sunny France
---
That looks to me like one of those proprietary radiator sealing gunk applications... like Radseal or whatever. Y'know, for lazy thick people who CBA to fix a leaky radiator properly? They put a dose in and it doesn't fix the leak so they put in another... and then another... and then the leak does stop largely because the entire system is choked with that crap
When I was blighted with MR2 ownership, it had been abused like that by the previous owner (though he did at least admit it). IIRC it took the best part of two days of pretty much solid flushing through with a hose to clear out the crap. After several hours gouging it out of every orifice I could access with a screwdriver. Honestly, words fail me at the barbarism people inflict on their car engines
EDIT: this is what was in my MR2, Looks similar doesn't it?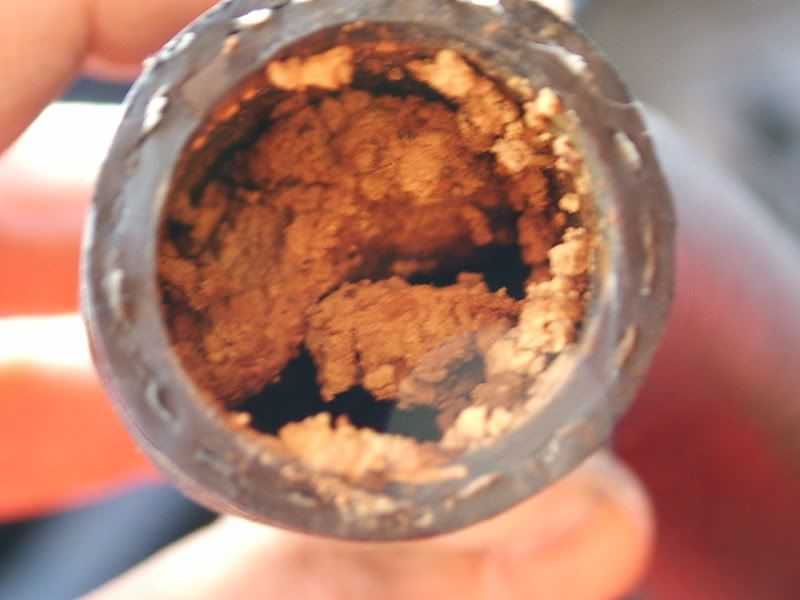 ---
Now that you mention it Lucky, it does look like that radiator sealer stuff....

When I bought the car I did find a pin hole leak in a small piece of pipe used to block off the water feed on the s5 water pump housing, could be related.

Also I noted on some of the radiator flush products, they recommended using their radiator system "conditioner" but didn't like that idea as it looked to contain lots of particles which looked like fibres.

Just hope I can get it clean as the motor is running so smooth at the moment....
---