I'm desperate to get KIMI 2 (1983 S2) back on the road asap. One by one, issues are being resolved by I really need some advice on this one please.
Long story but I had to remove the transmission and then the transmission front plate - the one integrated with the clutch release guide shaft- this one;
On removal of the plate, the main gearbox shaft end-float shim few out, completely mangled and broken
. I'm guessing the shim cannot have been seated correctly when last installed. Anyway I've followed the Mazda workshop manual procedure to determine what shim(s) are needed;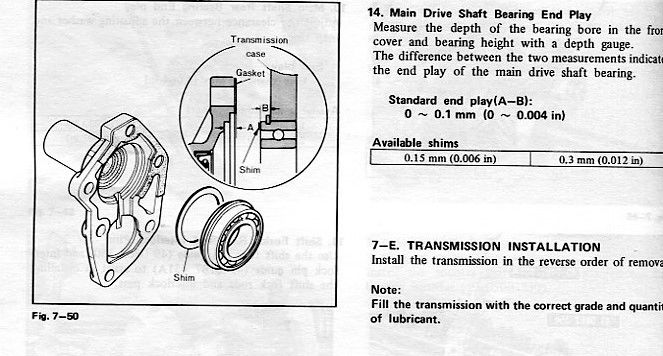 A-B = 0.17mm (+/- 0.02, based on lots of measurements). So, the result is the need for a shim of 0.15mm to get within spec.
The part numbers for the two shims are;
9996-36-315 (0.15mm)
9996-36-330 (0.30mm)
But I've checked with Mazda and they say the 0.15mm shim is no longer available....
My choices would seem to be;
1. Re-assemble without shim, but the endfloat would then be ~0.15mm, outside the spec of 0 to 0.10mm.
2. Manufacture a shim - fiddly but not impossible. The Shim has an OD of ~70mm, ID of ~60mm. I could cut one from some shim sheet from scratch or purchase an "oversized" shim and trim it. There seem to be places on the internet that sell shims NEAR the size, but none are exact.
If I take option 1, does anyone know the consequences? I'm guessing increased gear wear, but surely not excessive, given the very slight departure from spec?
I'd really like to get the gearbox back asap to test-drive the car and this is the current hurdle to progress.
Ant help/advice greatly appreciated.