---
Posts: 1290
Joined: Tue Nov 01, 2011 9:44 pm
Location: Worcester - UK
Here we go again!
Had a read of it. Does anyone know where I can get a series 3 Exedy clutch kit from at all? The UK Exedy website is rubbish
. Found a few different ones in USA but it got my confused again with different parts
Would the US models fit the same as ours?
Atkins selling Exedy 10008. Decent price. But the Exedy website doesn't list it under the RX-7
http://atkinsrotary.com/store/83-92-N-A ... 10008.html
Exedy website lists the 10025 for the RX-7. Looks to be missing the seal though?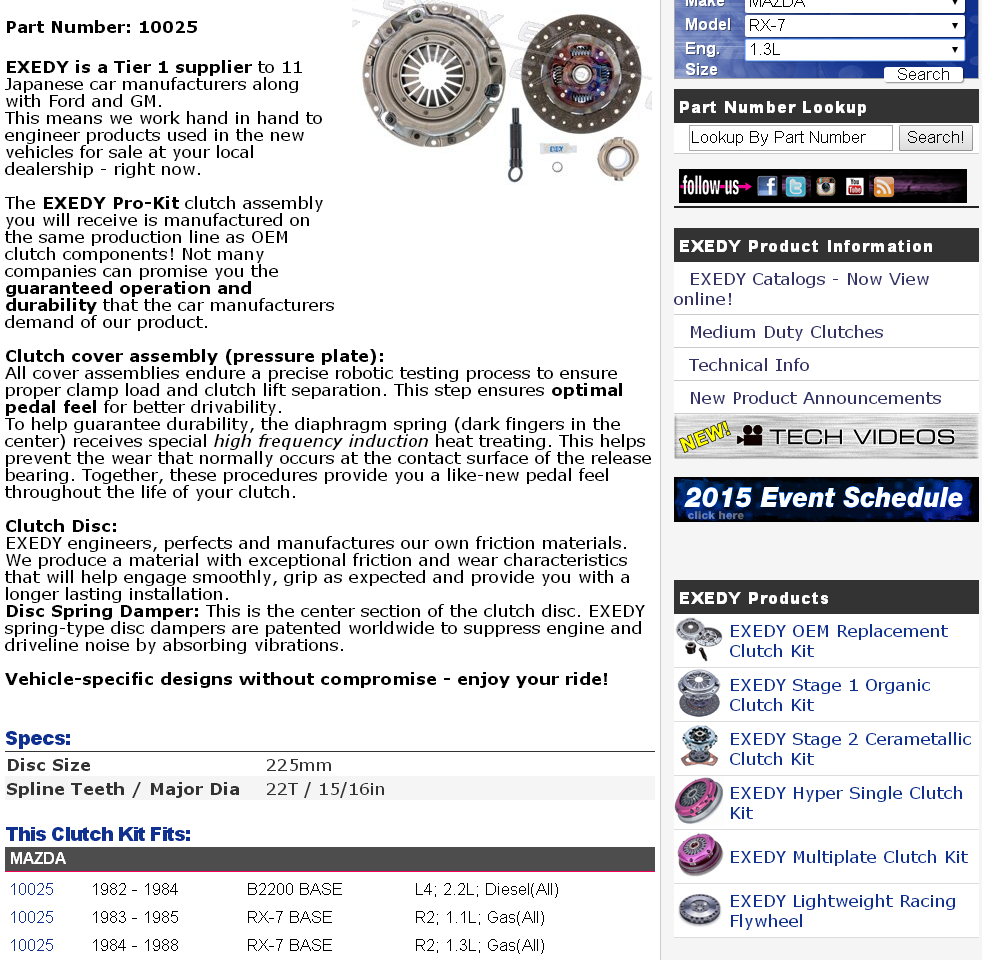 ---
Hi I got mine from the US, I emailed the people below from a ebay add. It was here within 10 days but that was back in 2010, may be worth an email to see if they are still about. I got 225 mm 22 spline clutch.
Merchant
The Import Experts
401 E Arlington
Yakima, WA 98901
United States
509-972-7112
theimportexperts@hotmail.com
Description Unit price Qty Amount
Exedy/Diakin Clutch Kit
Item Number 10008
$95.00 1 $95.00
Subtotal $95.00
Postage and packing $55.95
Total $150.95 USD
Exchange rate: 1 GBP = 1.51937 USD
Hope this helps
Dibs
---
---
Posts: 1290
Joined: Tue Nov 01, 2011 9:44 pm
Location: Worcester - UK
Sorry bout the late reply. Thanks for the info, Dibs. Least its confirming about the US kits aye
. PM'd Tool
---
Posts: 170
Joined: Sat May 26, 2012 7:03 pm
Location: Hove
Pretty late reply but I have run an exedy heavy duty from Atkins on the s3 engine and also on the s2 engine I fitted when the s3 failed. Seem like good bits of kit and work well. I can confirm the part numbers if needed.

Tim
---
I need a new clutch for my car. My car is an S3, however looks to have an S2 engine fitted. I say this as it has the front oil cooler and no beehive etc.
I am thinking of ordering this clutch :
http://www.ebay.co.uk/itm/Mazda-RX-Exed ... 4d1a26b748
its £86.15 delivered, is this a reasonable price for a 215mm clutch kit?
My concern is that if my car is an S3 could this kit have the wrong release bearing? are they different S2/3?
Cheers
---
Pressure plates are different James, not sure about the bearing.
I would pull it apart first to make sure you get the right thing.
---
Release bearing is the same but you need to match the clutch to the flywheel, pull it apart before buying a new clutch.... Don't assume anything
---
Clutch plate and pressure plate are both bigger in S3.

Take the inspection plate off the top if the rear plate. Take a picture of the flywheel as best you can and post a pic.

I can ID the flywheel (and therefore the clutch size) and a few others can too.
Back in sunny France
---